Successful contractors know what their xfactors are and if they align with your supplier's, employee's or project owner's interests.  Your differentiaters can attract talent, press and business. Just how do you leverage your xfactors?
Talent Attraction Xfactors
When it comes to talent, three items come to mind: culture match, reputation and technology.  The best talent looks carefully before putting your construction firm on their shortlist.  Smart leaders make sure all three shine through in their people, projects and on the internet. They empower their employees to showcase their work in the company intranet, and include employee stories in their newsletter.  They keep content fresh and update their blog when new technology is deployed in the office and field.  They share success stories on Facebook and YouTube that reach out to communities, showcasing company values, through volunteer efforts while making the content easily shareable. The message is human and caring. These same efforts often lead to free press.
Press Attraction Xfactors
Always looking for an angle, journalists love stories about overcoming obstacles, announcements that impact their community or improve the quality of life.  Your construction projects are ideally suited to these storylines. Building a bridge? Share shorter commute times, connecting commerce, job creation and closing gaps in your press pitch.  Now spin your xfactor into the story – your commitment to veteran hires or the  team diversity can reflect your company's culture.
Business Attraction Xfactors
Every completed project stands as a testimony to the special talents of the project team, but delivering on time and under budget doesn't always convert to repeat business.
Communication and shared core values is the key.  Setting clear expectations, how you handle crucial conversations and sharing key progress throughout the project  team is critical. Your emod factor showcases your commitment to safety, your ability to keep project costs lower and your business values are aligned with your entire team. If your systems are well defined, software can help with the deliverables, communications and the collaboration. So can smartphones, tablet PCs and iPads.
Can a small firm (perhaps using Quickbooks) compete in technology? Surprisingly yes. Creating a central document repository, tracking milestones and collaborating can be done effectively and affordably without a Sharepoint Server. The key is delighting the team, especially the project owner.  Recently Corecon announced their new Team Link Portal which extends the project management activity out to the architect, engineer, subcontractor, supplier and owner.  Here are a few Screenshots:
Corecon Team Link Portal – Owner Project Financials Dashboard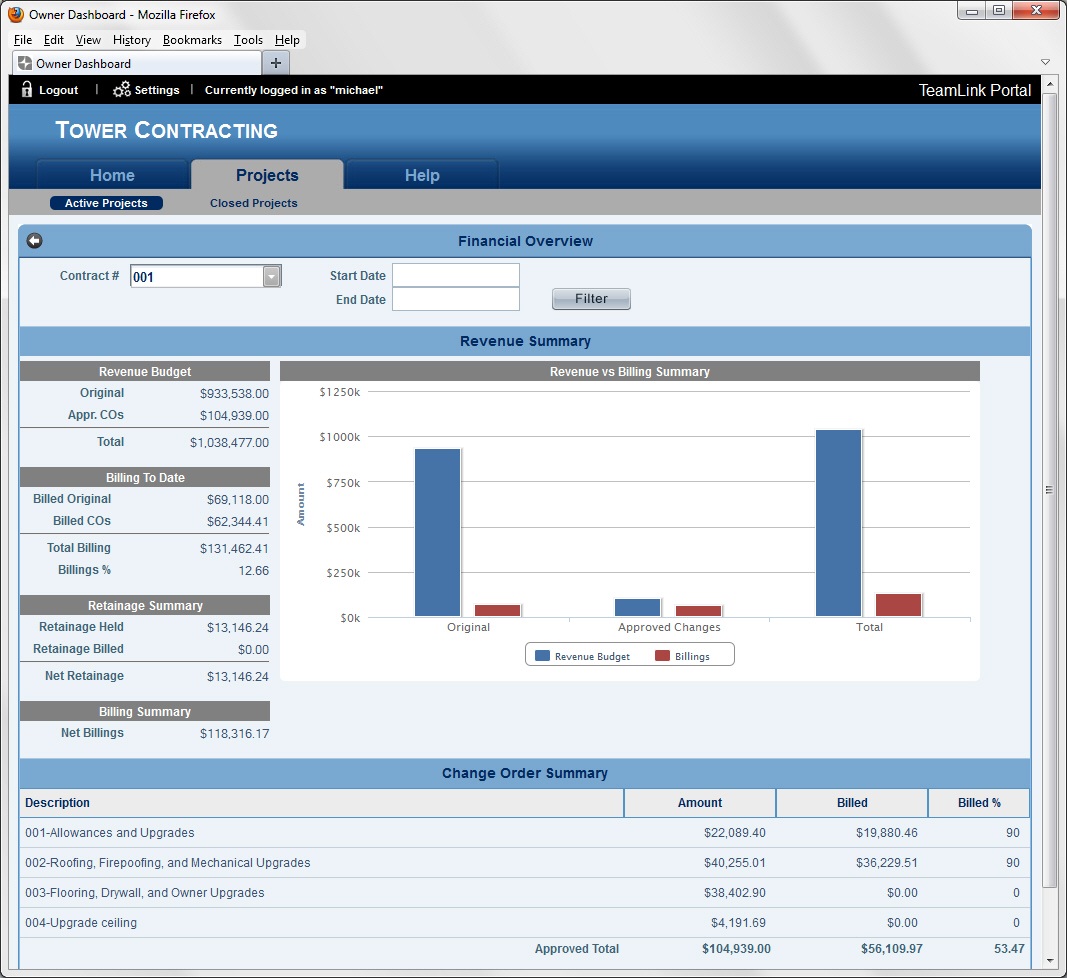 Corecon Team Link Portal – Correspondence Tab
Making critical information accessible keeps people happy and coming back for more.  What I like about Corecon (and why I rep for them) is the straight forward approach, recognizing that small and medium sized construction firms, who don't have full time IT staff actually have a competitive advantage. They're more nimble. This and other xfactor offerings can help keep repeat business occurring and attract new business too.
What are you construction xfactors and where do you share them? Please add them in our comments.