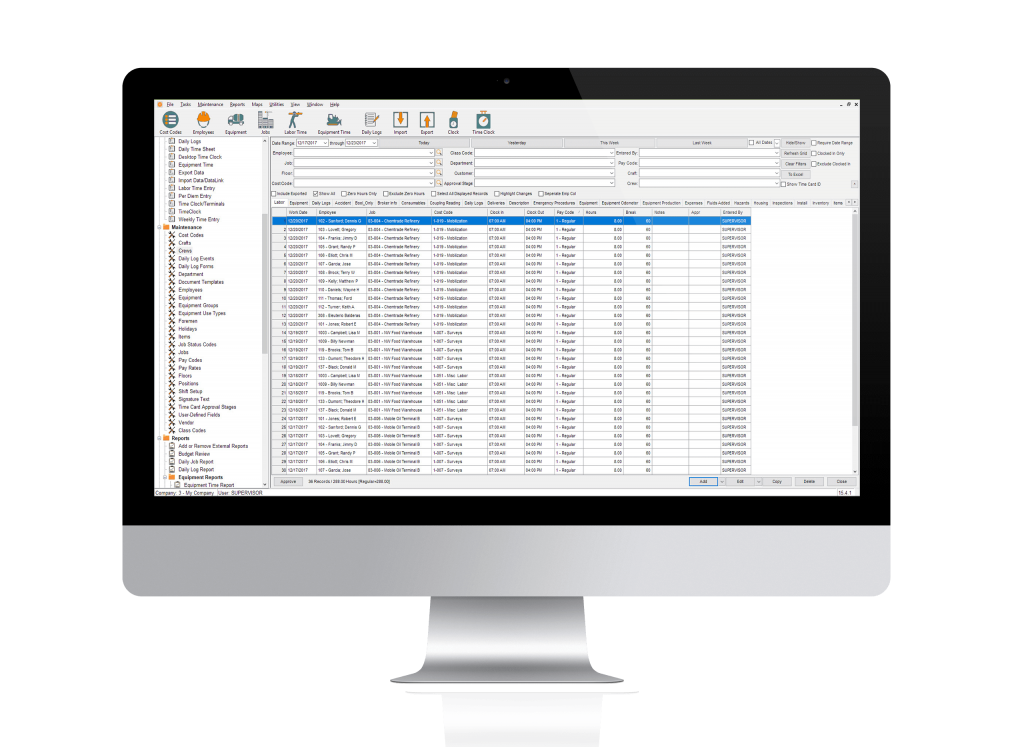 The mJobTime Mobility Suite provides you with the power and flexibility needed to track your most important field functions. We realize that no two companies run their business the same way. As a result, we try to give our customers as much flexibility as possible. This starts with giving them the option to choose only the modules they need. Our modules include:
Labor Manager, with Employee Portal
GPS Manager
Equipment Manager
Daily Field Manager (including daily logs, production units, daily quantities, per diem and expenses, and equipment meter readings)
Budget Manager
Documents Manager
Since the beginning, our overriding emphasis in developing our software for field users has been simplicity. Our modules are easy to learn and simple to use. Our screens are standardized with simply worded buttons and labels, and default values are used wherever possible. This allows your users to be up and running in no time so that they can spend more time on construction. The mJobTime Web Edition can be run on any HTML5 supported device. What's more, these devices can be mixed and matched, which is especially suitable for companies with Bring Your Own Device (BYOD) policies.
WEB BASED INTERFACE
The Web Edition combine's mJobTime's powerful feature set with its well-known ease-of-use factor to provide users with an extraordinary web-based interface.
Capture time in real-time or enter after-the-fact
Allow foremen to review, edit, distribute, and approve time in the field
Track production units, per diem and other expenses, and more
Document jobsite events with field notes and pictures
Runs in dis-connected mode when connection unavailable
Runs on any HTML5 supported device including iPhones, iPads, Android smartphones and tablets, laptops, and more
Who Can Benefit From The mJobTime Web Interface
Companies whose field users are not tech savvy
Companies desiring to utilize a time tracking application on the latest smartphones and tablets, especially entities with Bring Your Own Device (BYOD) policies
Companies concerned with accurate time reporting (capture punches in real-time)
Companies needing to manually enter start and stop times and start and stop times for breaks (i.e. California contractors)

WINDOWS INTERFACE
Have you been using Microsoft Windows on your desktop or laptop for years and would rather fight than switch? Worry no more!
Runs on Windows OS devices
Enter time in daily or weekly grid format
Allow project managers to review and approve time records for their foremen
Allow foremen to copy time records from the previous day
Run a wide range of detailed reports
Runs in disconnected mode. Connection only needed to sync
Who Can Benefit From The mJobTime Windows Interface
Laptop and desktop users comfortable using the Microsoft Windows operating system
Anyone currently entering time records in a daily or weekly grid who want to maintain a similar entry mode
Users who generate a large amount of notes associated with their time records
Anyone needing access to detailed reporting
Managers or superintendents needing to review and approve time for multiple foremen or jobs