The Valley of the Sun Chapter of the Construction Financial Management Association (www.cfma.org) is conducting their 2015 Arizona Construction salary and compensation survey and you are invited to participate.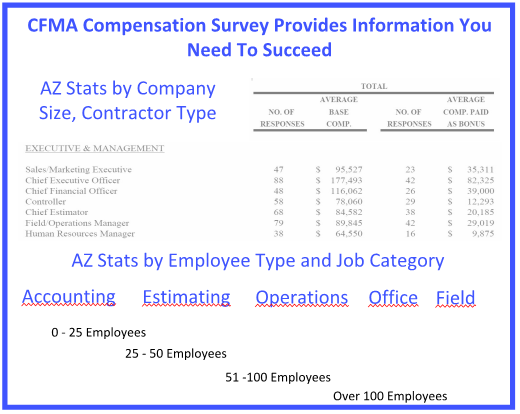 Join your peers Take the survey now! You'll get the inside scoop on what the Arizona construction industry provides in salary, benefits and company-owned vehicles to their staff. Results include breakdown details by category and employee size. Our goal is to reach every licensed contractor in Arizona.
Be more competitive in acquiring talent by joining the members of these construction associations in participating in the survey.
American Subcontractors Association of Arizona (ASA)
Arizona Builders' Alliance (ABA)
Arizona Roofing Contractors Association (ARCA)
Arizona Utility Contractors Association (AZUCA)
Associated General Contractors of America (AGC)
Associated Minority Contractors of America (AMCA)
Construction Financial Management Association (CFMA)
Independent Electrical Contractors Association of Arizona (IECA)
National Association of Women in Construction (NAWIC)
National Electrical Contractors Association (NECA)
Plumbing-Heating-Cooling Contractors Association of Arizona (PHCC)
We appreciate your time and know that this will serve as a valuable resource for your financial, operations and human resources staff. Take the survey Now!
If you are the CEO, CFO, controller or HR Director of a general contractor, specialty trades (subcontractor) or highway/heavy/utilities contractor located in Arizona, you can get the full 2015 report for free. By simply completing the survey before October 31, 2015, you will receive a complimentary copy of the results (a $100 value).
The Construction Industry Compensation Survey is open October 1-31, 2015 and rest assured, your information is kept confidential as information is collected and analyzed by the
independent CPA firm of Hunter Hagan & Company, LTD. Take the survey
Should you want to receive a copy of the results without participating in the survey, or require additional copies of the survey, they can be purchased at a cost of $100 per copy through the Valley of the Sun CFMA Chapter website.