Powerproject is construction scheduling that's different. Because it's easy to use and designed for contractors. And with the new version 15 enhancements, Hagen Business Systems, Inc. has become an authorized reseller. You'll see what I mean in this short video.
Everyone wants more accurate schedules and effective resource utilization. Powerproject v15 delivers the most robust construction scheduling while remaining easy to use. It's simple to get started with import templates for all popular scheduling programs including MS-Project, P6, SureTrak, etc. Does your scheduling tool fit with what really happens on a project site? You deserve the right tool for the job,
Construction Scheduling Quality Check
My favorite new feature in Powerproject v15 is Schedule Quality Check (SQC). Why?
There's a direct correlation between the quality of a project schedule and the resulting execution performance.
How do you validate your schedule now? Leverage SQC on your project plan. With Powerproject, you can build your own quality test metric thresholds, . Pull from DCMA and CIOB and get readout in color. When the quality of a schedule drives success, it's paramount to check your work. As a result you'll know your accuracy. This sample detailed report clearly displays actionable items: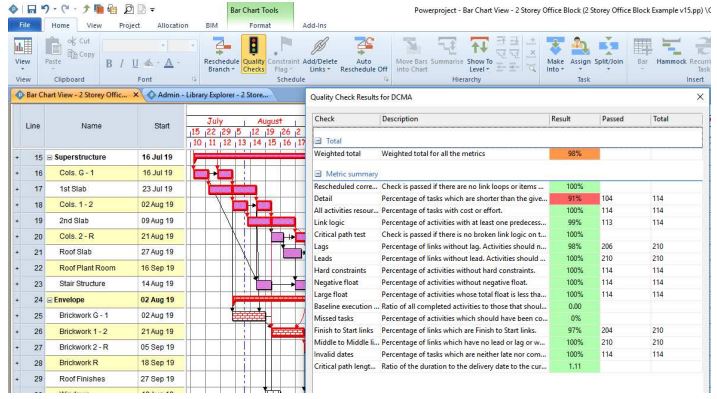 Scheduling Productivity Features
Keeping track of the schedule progress is a snap with their Site Progress App. And schedule printouts look like pros created them, resulting in kudos for you. Here are just some of the features that will make your job easier.
Drag and drop functionality
Multiple activities per line
Easily draw relationships including lag
WYSIWYG Reporting
Unlimited undo and redo
User defined formulas in spreadsheet columns
Robust resource, cost, revenue features
Built-in BI Reporter
Integrated BIM module for affordable 4D planning
When you're ready to improve your scheduling accuracy, reach out. To learn more, request a webinar invite, or to schedule a demo. Give us a call or email us. We'll be hosting webinars every month. Because you need a lifeline, we're here to help.
Looking for Bluebeam XCON 2019 posts?