Contractors and the construction industry as a whole love celebrations. For Architects, Contractors and Engineers a cupcake reminds us of our childhood, the birthday parties you attended and the Lincoln Logs, Erector Sets, Legos and Tonka Trucks you received. For the young women of today it might be their Architech Barbie. Every time you win a bid, finish a project, have designs accepted or get plans approved you relive these moments. Whether you're a tradesman, project manager or CEO there's a sense of pride and accomplishment in every task performed. It's the same feeling around the world. So why aren't you celebrating construction milestones on social networks and your website making them social cupcakes?
Too many construction professionals are focusing on the economic woes. Stop. You know that happiness and success attract. After attending a joint networking event for the Arizona Builders Alliance(ABA), MCAA and SMPS at Audio Video Resources yesterday it was noticeable who the happy people were and just how many others were congregating around them. Lorraine at Caliente Construction was celebrating making it onto 4 short lists this week and having 2 bids awarded. Way to go! John Ulibarri had a discussion with Mark Minter on the value the ABA brings to the construction industry. Talking points with positive messages and the people around them were listening. Even my discussion with Dennis Tsonis of Lovitt and Touche had others watching us exchange contact info using the Bump app on our smartphones. That gesture of bumping is like a high five and feels like a celebration.
All this translates easily onto the internet. Just this morning at a Greater Phoenix Chamber of Commerce East Valley networking breakfast we had Tim Troy of TNT Shredding celebrating the arrival of his second truck – Tim tells me he's getting it wrapped and will be posting pictures on Facebook soon. If you need paper shredded (I've been to many construction offices and know you need to make some room), give him a call. Desert View Aerial Photography captures construction celebrations daily. Here's a top off shot for Haydon Building Corp with the American Flag and evergreen cheering on the last steel beam put in place.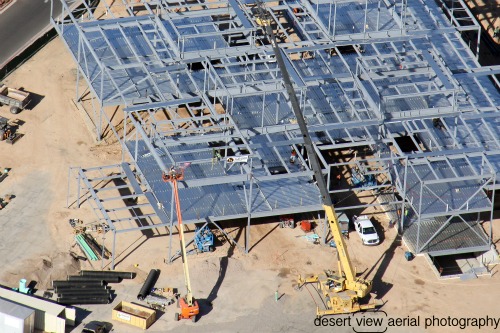 Many social strategy sessions end up in discussions of what to blog, tweet or share on Facebook or LinkedIn about. The content should not always be about you but on people and business you know…things happening in your community that make a difference to your clients, suppliers and employees. If they elicit emotions and fond memories all the better. That's why Cupcakes are in the title of this post!
Tell us about what you're celebrating in the AEC industry and let's get everyone in a great mood. Every contruction related celebration comment will be approved. Click on the comment button at the top of this post and/or share this with your friends.