While many Architectural, Engineering and Construction firms use Bluebeam Revu to convert CAD to PDF, there's an often overlooked capability that is as plain as the nose on your face. It's sketching and creating floorplan illustrations.
It was my pleasure to meet Nathan Woods, CCCA, LEED AP of Taylor Design at the 2014 Bluebeam Extreme conference. We had the opportunity to connect on LinkedIn afterwards and struck up a conversation. I inquired as to how he first found Bluebeam and what he uses it for. "I was looking for a superior way to markup and respond to RFIs" says Nathan. "Nowadays, I draw in Bluebeam equal amounts to sketching or CAD."
Luckily for us, he was willing to share a sample of his work in Bluebeam with this floorplan illustration (below), taking it from sketch to finished work. Overtime he has added custom tool sets into his tool chest copying some tools from CAD and creating others from scratch in Bluebeam. With the custom tool set features, you can have all your favorite symbols, illustrations, etc. right at your fingertips. Let's take a look at Nathan's work.
The sketch is the basis for laying out his illustration:

He then creates layers for the Soffits, Markups and Text Annotations. Nathan draws in the soffits with the polygon tool that he's customized with a fill color. Here you can see the soffits layer added to the sketch: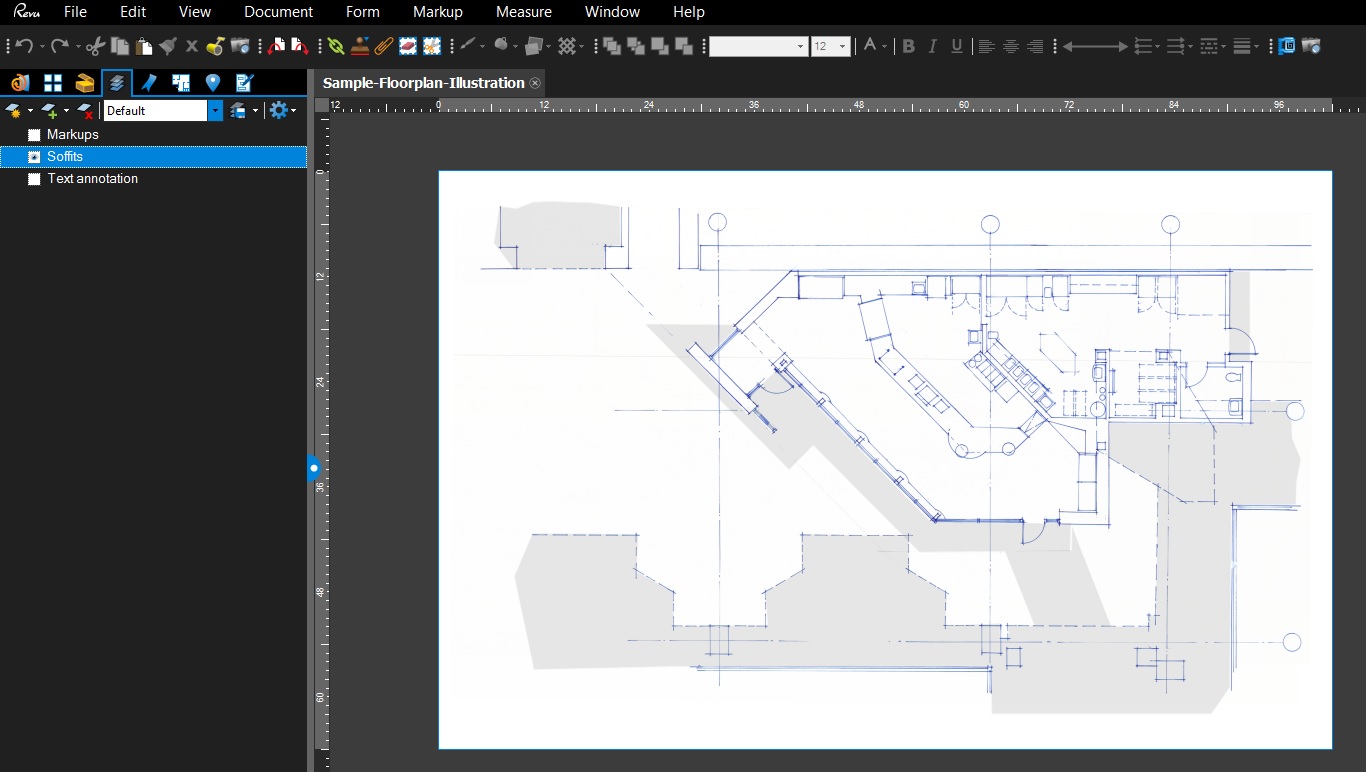 Now let's turn on the markups layer. Many of the tools here are part of his custom tool set.

Finally the text is added for a professionally illustrated finished floorplan. All that's left is to add the Architect stamp!
A special thank you to Nathan Woods for sharing this with our readers.
If you have created a timesaving tool or found another use for a Bluebeam and would like to be featured in an upcoming blog post, reach out to me on LinkedIn, Email Me, or tell us about it in the comments.
Want to learn more about Bluebeam Revu or need on-site training for your construction team and office staff? I am available and travel the United States providing in-house customized training for your Project Managers, Estimators and supporting office staff. To arrange for Bluebeam Training in your offices, Email Me Your Contact Info.