Recommendations are the life blood of most businesses. Somewhat hidden within the bowels of LinkedIn is the lair of the Service Provider Directory. It's where you can give recommendations (even though you aren't connected in LinkedIn). But more importantly it's where the smart business people search for experts and read the recommendations of others.
You can find it under the companies search:
LinkedIn is a great place to search for service providers that your contacts or network recommends. This is particularly true if you fall into any of these categories:
Attorneys
Career Coaches
Chiropractors
Commercial Real Estate Agents
Consultants
Dentists
Event Planners
Family Physicians
Financial Planners
General Contractors
Graphic Designers
Insurance Agents
Lawyers Mortgage Brokers
Nutritionists
Optometrists
Personal Trainers
Photographers
Physical Therapists
Property Managers
Real Estate Agents
Recruiters
Search Engine Marketers
Search Engine Optimization Experts
Tax Advisors
Travel Agents
Venture Capitalists
Veterinarians
Wealth Managers
Wedding Planners
Writers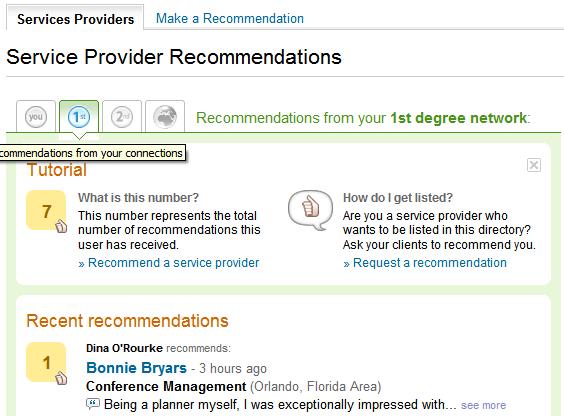 The Service Provider Directory allows you to quickly discover, research, and reference check service providers in your network, in your circle of 2nd connections or the world.
LinkedIn also includes the option to search locally to hone in on the closest, highly recommended specialists.
Most of the IT and computer geeks I know have been using this feature but when speaking with business associates I find that less than 50% have used it. Guess LinkedIn has more training to do.
Are you making the most of recommendations and have you given a recommendation on LinkedIn without someone asking? Please share what prompts you to give an unsolicited recommendation with our readers. If you found this tip useful, please share it, Like it or tweet it around the world.