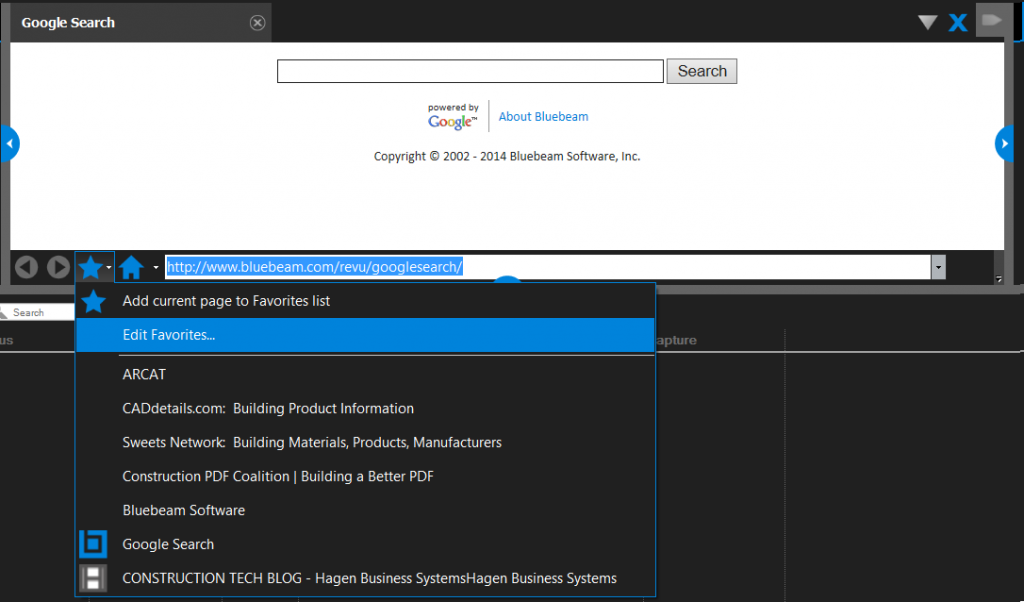 Working in PDFs often involves referencing information from the web and Bluebeam's WebTab, found on the File Tab, can make your navigation quicker. The WebTab (shortcut CTRL+T) opens a new tab typically with the Google Search open inside. Why leave Bluebeam to get to the world wide web? What most people don't realize is that you can add favorites inside and change the default
website to launch. Let's look at how easy this is to set up.
How to Set Up WebTab Favorites
Open a WebTab
At the bottom of the dialogue box, click on the "Favorites" Star
Choose Edit Favorites OR navigate to the page you want and choose Add current page to Favorites list
If you selected Edit Favorite, Click on the Star in the upper left of the Edit Web Favorites dialogue box and add the website title and URL then click done.
While in Edit Web Favorites, you can drag and drop web favorites into the Home pages section.
Whichever home page is listed first is your default when opening a new WebTab.
You also can import your favorites from Internet Explorer and/or export the Favorites you've added manually and share them with other Bluebeamers.
Architects will likely want to add sites like ARCAT, HagerCo, etc.
Your Team members should have the CPCoalition (for PDF Guidelines) and hopefully, all my readers will want to add my Blog containing all these great Bluebeam Tips too!
If you'd like to use my favorites list which includes ARCAT, HagerCo, CADdetails.com, the Sweets Network, CPCoalition, and My Blog, feel free to download this file from BOX, and simply add it to your WebTab Standard Favorites in the settings as show below. You can always add your own favorites to this list later.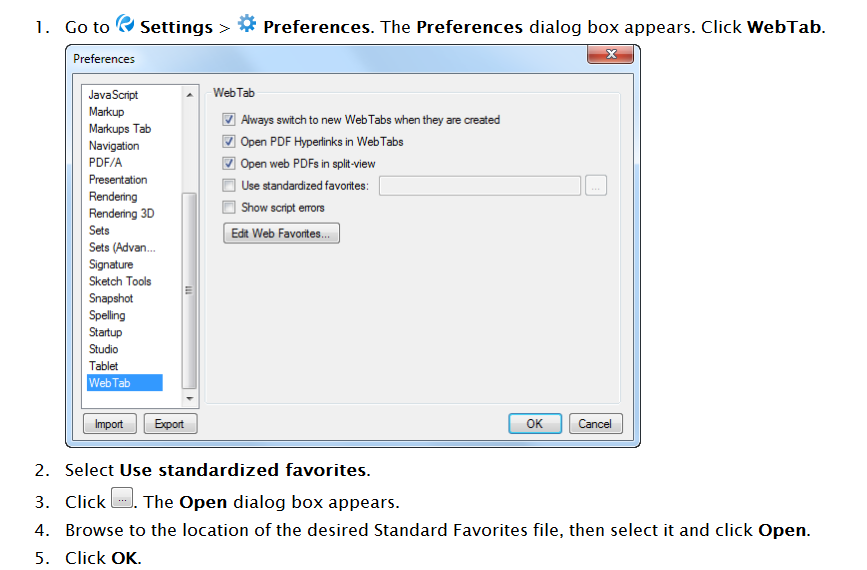 What WebTabs are your favorites? Please share them in the comments.
If you liked this Tip you may also want to Read these past Bluebeam Tips:
How to Close Multiple Files Quickly
Working with More Screen Real Estate
If you need Bluebeam Training, an upgrade to Extreme or additional licenses, just Email Me Your Contact Info and I'll get in touch. We love referrals!