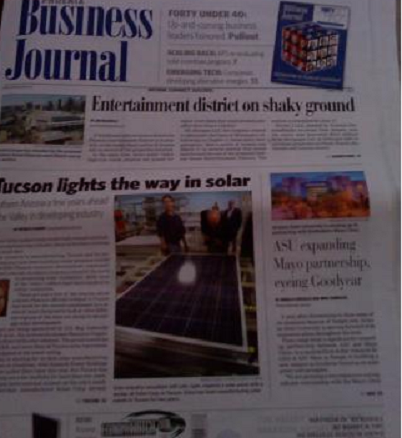 How to Make a Personalized Newspaper is really a big time saver and Google Reader with iGoogle made my information aggregating simple. Gathering news on your favorite topics can be a chore … visit your favorite websites and read through all the email subscriptions in your inbox. While my tech friends already use Google Reader or other RSS readers, I found that the rest of the world is still in the dark on how to make this automatic. Let's first discuss what RSS is.
RSS is a term the news media has leveraged meaning Real Simple Syndication. To the layman it's a way to subscribe to news, blog posts, etc. RSS eliminates the need for you to visit each blog or multiple websites to read updates and new articles. Adding iGoogle to the mix organizes all your "subscriptions" into a newspaper format filled with headlines, divided into sections and customized to your liking. So instead of receiving 100's of emails a week, you visit iGoogle, choose what section of your newpaper you want to scan thru — glance at the headlines and read only those that peak your interest. Reducing email volume, alleviating distractions and enabling you to get caught up on topics quickly has proven to be a huge time saver. No more clogged email inbox for me! What's really great is all this is easy to do and free to use.
How to Make a Personalized Newspaper
Let's look at how my iGoogle "newspaper" is layed out:
So how do you put this together?
Start with signing up for a Google gmail account. It will ask you for your login, password, etc. You do not have to make Google your defaul homepage or enable web history. It will ask you to try out Buzz…skip this for now as that will be covered in another blog post.
Then setup your iGoogle page
It will be configured for you but not personalized and may look something like this:
Now you get to customize it with gadgets. You can change the theme at the top if you'd like.
Start by arranging or removing the items it brought in automatically. Each of these items, like the clock is called a gadget. If you click in the top right section of the gadget on the down arrow you'll get a dropdown box like this:
If you don't want a gadget, just delete it. You can also move them around by clicking on the crosshairs and dragging it to where you want it.
Google also has many gadgets you may want to add. Click on Add Stuff in the lower right hand corner of the theme picture (top of the page) and you will be taken to another page. Some of my favorites gadgets are: Google Calendar, Google Translate, LinkedIn Search, and TwitterGadget. If you are a news junkie, grab CNN or FoxNews, or perhaps Engadget (IT guys like this). Don't lose focus and just grab a few for now. Remember we are creating a customized newspaper of all things you like to read about. Once your finished grabbing gadgets, click "back to iGoogle page" (at the top).
Now lets create our newspaper sections.
Next to Home on the right hand side is a down arrow. This is where you can create new tabs. Here are mine:
Once you create tabs you can also drag gadgets from your homepage to another tab.
Now lets add our content – add a blog feed. Let's go find some blogs that discuss topics that interest you. I don't care if it's photography, social media, construction or job hunting. There are hundreds of blogs to choose from. Use one of these tools to find your hobbies, interests and all things educational that you like to read about:
http://blogsearch.google.com/
http://technorati.com/
http://www.icerocket.com/
http://www.blogsearch.com/
Once you find a blog you like, find the RSS button to subscribe to the blog. It may just have an orange logo or also say subscribe like this:
When you click the RSS logo it will take you to a screen like this: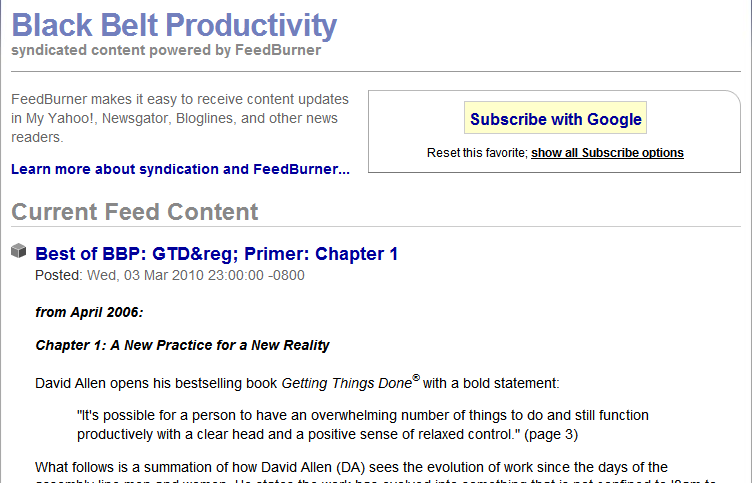 or it may have more choices like this:
If you select subscribe with Google it will take you to this page:

If you are still logged into google and on your iGoogle page, when you select "Add to Google Homepage" it will add the blog feed to whatever tab (section) you have open. Once the blog is on your page, you can click the down arrow and edit the gadget to have it show you the last 3 to 9 blog post headlines from that blogger. Repeat the steps and soon you'll be reading your own custom newspaper too!
If you find a favorite gadget, decide to create your own customized newspaper or just found this a great way to reduce your email volume I'd love to hear from you. If you think a few of your friends might find this helpful feel free to share it with them. (Please click the Share this blog button on the Sidebar to the right)
If you liked this article, you might also enjoy:
"Building the Business Case for Social Media"
"End Embarrassing Email Errors"