I frequently get asked how to Drag N Drop or Move pages between documents in Bluebeam Revu. People say they can only copy/cut and paste from the Thumbnails panel, but there's an easy way to accomplish this. It's just not blatantly obvious… Open two instances of Revu.
We created a video of the steps to make it simple to follow below:
In the Thumbnails panel you can drag n drop pages to rearrange the order quickly and even use the multi-select functions in Windows. Holding the Shift key while clicking allows you to select a range of pages and the Control key selects non-contiguous pages. Moving pages this way works well within one document. Once you've selected the pages you can drag n drop them to the position you wish to place them.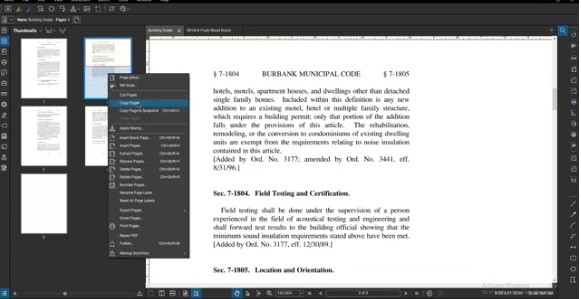 Drag N Drop Pages with 2 Instances Running
For drag n drop to work or move pages between documents in Bluebeam Revu without using cut/paste simply launch another instance of Revu. It's easy.
Move your mouse down to the taskbar
Hold down the SHIFT key
Click on the "R" logo of Bluebeam
A second Bluebeam Revu instance launches where you can open a different document. Because you'll want to see both documents while working, let's make both instances viewable simultaneously. To place them side by side, snap each instance, one to the left of your Windows screen (WIN key + Left Arrow), and the other to the right (WIN Key + Right Arrow). Now in Bluebeam open your Thumbnails panel in both instances. Then Drag N Drop the page thumbnails to/from one document to another! Hope this speeds up you process! Note: Running a second instance does not use another license of Revu.
Feel free to share this with your team and comment on this post if you found this helpful.
We also post updates and more tips on LinkedIn if you'd like to follow us there.
Here are a few more articles you may find beneficial:
How to Take a photo and immediately Mark It Up in Bluebeam Revu